Capt. Donald "Don" DeWitt, U.S. Navy Retired, departed this earth Feburary 15, 1999. I was one of his many friends he made, while here, online. He was best known to me by his sense of humor, his caring spirit, and his loyalty to the country he served so well. His parting caused great sorrow and will be missed by his friends (offline and online) and family. I am glad he counted me as one of his friends. The following are web sites he shared with me during the time I knew him. Rarely a day went by that he didn't take the time to send me an uplifting thought, a pleasant "hello" and/or a kind word. Come with me and visit those places he shared with me.
I hope you enjoy these links as much as I enjoyed receiving them...Don will live on in my
heart and memories forever...
Look below at my award I received for this page. I am very appreciative...click on the graphic
to see where the award came from.
Thanks Ariel, for the Award...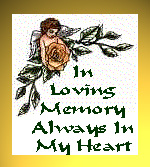 You are one of
Visitors to enjoy Don's Links
This page was edited 04/09/02 12:09:36 PM